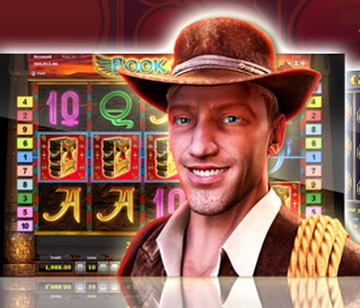 Book of Ra is a casino slot game having Egypt Mythology theme. Book of Ra belongs to Novomatic, an Austrian company, and is the most successful and most played slot game ever. For this reason, Book of Ra is called as "Legendary Slot Game".
Popularity of Book of Ra has exceeded the reputation of Novomatic, its production company. Novomatic slot machines are the most popular slot machines in casinos, especially in Europe, and the most popular game is Book of Ra.
Book of Ra game is played in 2100 land-based casinos in 46 different countries.
Book of Ra is very popular in not only land-based casinos, but also in online casinos. The name of Novomatic's online service provider is GreenTube.
It is a good reason for many players to sign up an online casino which has GreenTube games, especially Book of Ra.
Book of Ra slot game has been imitated by Novomatic's competitors in various ways. Their games have name similarity, theme similarity and system similarity. Gold Of Ra (GameArt), Book Of the Dead (Play 'n Go), Riches Of Ra (Netent), Book Of Romeo (Bally Wulff) etc. There are many Egypt themed games and they also have Book symbols. In fact, even Novomatic itself has imitated its game Book of Ra and produced new similar games.
However, none of the imitations were favored as Book of Ra. As Book of Ra was unrivalled, Novomatic company changed its strategy.
Instead of producing new slots similar to Book of Ra, Novomatic chose to develop Book of Ra game and produce new versions of Book of Ra. Again with the same name and game characters, it just started to offer new versions with extra bet. These are Book of Ra 6, Book of Ra Two Symbols, Fixed Book of Ra, and Book of Ra Xpand. New versions of Book of Ra are first offered to players in slot machines at land-based casinos, and then online versions are offered to online casinos by GreenTube.
You can now play Book of Ra 6 in both land-based casinos and online casinos having GreenTube (Novomatic) games.
Book of Ra Two Symbols and Fixed Book of Ra are not yet available online. One of the features of the new versions of Book of Ra is that it turns into classic Book of Ra Deluxe when extra bet is deactivated. This means that you can play the new version of Book of Ra and additional features when Extra Bet is activated.
One of the new version is Book of Ra is called as Book Of Ra Jackpot Edition. It is only available in online casinos. As it could be understood by its name, it is the rising Jackpot version of Book of Ra.
Novomatic Group uses Book Of Ra's success and popularity as an advantage by utilizing a Book of Ra themed studio in its live casino Extreme Live Gaming.
Tagged with: book of ra